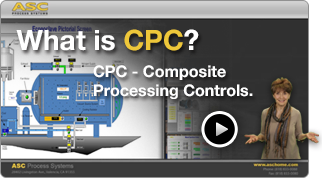 What is CPC?
CPC (Composite Processing Control) is ASC's flagship software and control system designed specifically for control of composite processes in autoclaves, ovens, presses, formers, and bond tools. Since its creation, CPC has been at the forefront of composite technology.
A history of innovation and customer service
In 1988 ASC developed its first version of CPC. At that time, PC-control was in its infancy and most advanced control systems utilized proprietary hardware or expensive mini-computers. At that time, competitive control systems cost $100,000 or more due to the reliance on over-valued hardware. ASC was determined to develop a configurable software package that could be powerful, reliable, and affordable.
At the time, most competitive systems were designed inflexibly and could not easily be retrofitted on different types of equipment. ASC took the opposite approach - we designed a software package that could be easily tailored to any type of equipment, and most importantly from any manufacturer. We actively interviewed process engineers, production managers, and material scientists from Lockheed, Northrop, Boeing, and GE in order to fully understand what the needs were. From those interviews, we developed the features and capabilities that today are industry-standard.
Although competitive computer control systems still used setpoint controllers as the primary control devices for the autoclave/oven, ASC took a bold step and designed CPC to be the primary controller of the equipment. This unique approach reduced the overall cost of our control system hardware and allowed ASC to win many more control retrofit contracts.
The first CPC package was DOS-based, but it was still quite powerful. A typical CPC configuration would control valves, motors, and actuators on the equipment, while concurrently handling HMI Screens, reporting, and alarming. To allow CPC to be configured to match the equipment's needs, we developed a powerful logic programming language which gave the controls engineer the tools to tailor the system. With all of these features, ASC was able to take control of an autoclave, oven, or press.
In 1990, ASC expanded CPC and launched the first multi-equipment version. Named "CPC-Mult", the package could concurrently control more than 20 pieces of equipment. This proved to be a very popular package because a single control system purchase could be leveraged to more than one piece of equipment. Even small equipment could now have advanced PC-based control capability. The per-equipment cost for PC-based control dropped more than 50% with the launch of CPC-Mult.
With the advent of Windows NT, ASC developed its Windows version of CPC which is the foundation for the current CPC package. Through the years, we have added thousands of new features and capabilities to meet our customer's needs. Today, CPC is shipped with Windows 7 and is the most powerful package available.
CPC Today
CPC has evolved over the last 20 years and is now the leader in the control of autoclaves and ovens. Most Tier I, II, and III aerospace companies standardize their controls on CPC. Every day, more than 1500 pieces of equipment are controlled by CPC. That's billions of dollars of composites being cured by this reliable package.
Features and Capabilities
Because we've listened closely to what our customers say, CPC has grown into a huge package full of hundreds of special features and capabilities required by the industry. Our customers are our partners and we constantly update and improve CPC to meet their needs.
Ease of use
Even though CPC is by far the most advanced control software product on the market, the software is still very easy to use. All screens and features are designed to maximize usability and increase operator efficiency. ASC takes great care to keep software operations as quickly as possible in order to reduce overall equipment cycle-time.
Excellent reliability
CPC is designed as a client-server package with proven reliability in the field. It is unacceptable to ASC and to our customers to have control applications that locks-up, and that is why CPC is designed and tested to meet stringent up-time specifications. Many of our CPC systems have been controlling multiple pieces of equipment for dozens of years without any major trouble incident. The up-time of CPC is far better than any other competitive product.
Multi-Equipment Control
CPC can concurrently control more as many as 20 pieces of equipment. This allows one PC or a dual-PC system to concurrently operate autoclaves, ovens, presses, and any other type of equipment in your production or laboratory area. This multi-equipment capability reduces the per-equipment cost of the system. No other software package has this capability or offers this feature.
Redundancy
CPC supports 100% redundancy of operations and data by means of a second PC. In a CPC Level II system, two PCs are used for primary and backup control of the equipment. In the highly unlikely event of primary PC failure, the backup PC will take control and continue the run(s) bumpless. The backup PC will also have a complete backup copy of the data up until and after the primary PC failure. During normal operation, both PCs can be utilized for viewing and/or operation.
Advanced cure control
ASC is the leader in the design and implementation of advanced controls for the curing and bonding of composites in autoclaves and ovens. The CPC software contains hundreds of options designed specifically to enhance the part quality. These include advanced recipe control, control by part temperature, control by part gradient, control by load gradient, exotherm control, material modeling to determine viscosity, Tg, and other material properties, pro-active control, and many others. No other product has all of these modeling features.
Comprehensive reporting
CPC has an extensive reporting capability that is far more powerful and flexible than those provided with other packages. You can select specific runs by database query and view and/or print trend date in color plot format, numeric logs, quality control reports, pass/fail reports, message logs, and a host of other formats. On-screen zooming and panning on the trend view are also supported.
Quality Analysis
CPC includes a revolutionary capability called the "Quality Card System". Each quality card is configured by the customer's quality engineer or specialist and serves as an automatic quality analysis agent. After a cure cycle is complete, CPC will access the quality card's analysis instructions and automatically scan all relevant run and part data to assure strict compliance. Because each card has a different set of quality conditions and requirements, you can buy off different parts with different cards - even in the same run.
Remote control/viewing
CPC is the only package capable of being viewed and control by multiple PCs on the customers' network. Unlike other competing products that utilize PC-Anywhere to "take control" of the equipment PC, CPC allows concurrent operation and viewing of the process by operators, engineers, QA/QC personnel, and managers on the network. As many as 20 concurrent clients are supported.
Multi-media features
CPC provides a host of multimedia features, including video maintenance training, drill-down maintenance images, part pictures, part diagrams, video chat and email, and other useful control features. These features allow ASC to build maintenance screens that provide images of each component on the equipment (ie. valve, motor, etc.), video of calibration and maintenance procedures for the components, and links to the on-line or on-PC product documentation. See sample screens.
Expandable
Because of its multi-equipment features, CPC control systems can be expanded to control other equipment in the future. Many companies add other equipment from year to year and never have to purchase another system. No other company offers this advantage.
Configurable Screens
CPC has a built-in screen builder that is used by ASC's engineers and customers to customize the exact look and feel of the system. On installation, you can request additional screens and display features, and we won't charge you anything for it. No other product can match CPC's screen building capabilities.
Up to date
CPC is maintained and updated monthly to provide the most up to date features and capabilities requested by our users. Go to the Support section of this site and select the Documents & Downloads tab to locate and read about current CPC updates.